Tolling Points
Soaring Transponder Demand is 'Great Problem to Have' for Ohio River Bridge Tolls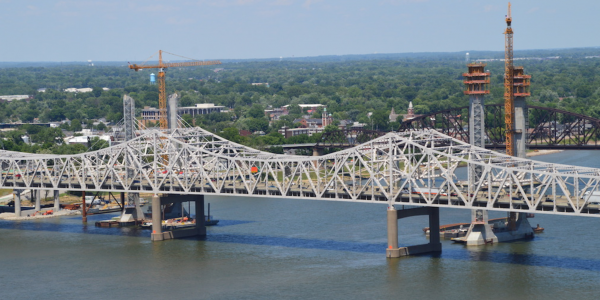 "It's a great problem to have," said Mindy Peterson, spokesperson for RiverLink, operator of the new toll system on the Ohio River bridges.
Less than a week after the new I-65 Abraham Lincoln Bridge, the improved I-65 Kennedy Bridge, and the new East End bridge opened for all-electronic tolling on December 30, demand for transponders has exhausted the available supply. That's because 170,000 customers have already signed up for the service.
More than two weeks before the official opening, RiverLink was reporting more than 100,000 transponder requests from nearly 45,000 households and more than 1,500 businesses. Then, in December, demand skyrocketed.
"We knew interest in RiverLink transponders would be high, but demand has skyrocketed over the past few weeks," Megan McLain, innovative finance manager with the Kentucky Transportation Cabinet, said in a release.
"From July through November, more than 70,000 RiverLink transponders had been ordered. Nearly 100,000 additional RiverLink transponders were ordered in December, outpacing total demand since we launched operations."
Now, RiverLink expects to take delivery of a new batch of transponders later in January, and is assuring transponder customers that the rate promised will be honored, even if they have to wait a while for their transponder. "We're thrilled that the demand is there," Peterson told the Courier Journal in Louisville, Kentucky. For anyone with a prepaid account, "they pay the lowest rate until it arrives, and that's whether it arrives two weeks from now or four weeks, five weeks, or longer."
The system will use cameras to track trips until the new equipment is in place, the Courier Journal reports. Tolls on the new Ohio River bridges will range from $2 to $12, depending on vehicle size and whether a driver has a prepaid account.
IBTTA's 2017 Symposium on All-Electronic Tolling and Managed Lanes will be held in partnership with the U.S. Transportation Research Board. Mark your calendar now and plan to join us in Dallas, Texas July 16-18!
Photo courtesy of www.kyinbridges.com