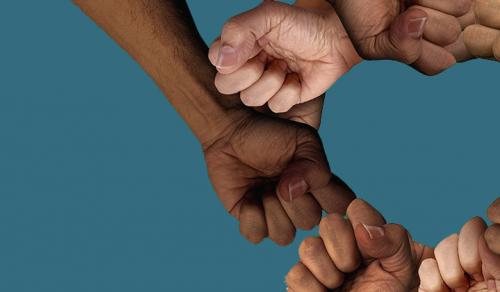 Diversity, Equity and Inclusion Award
About the Award
This award was established in 2021 by the Task Force on Diversity, Social, and Racial Inclusion.  In 2022, the Task Force is expanding the award to recognize TWO IBTTA member organizations that make a significant contribution to advancing racial justice, equity, inclusion, and meaningful opportunities in society.  One award will go to a public sector organization, the other to a private sector organization.  Details and the submission application for the 2022 award will be available in mid-April. If you have questions about this award, please contact Terri Lankford.
---
To be considered for this award, your organization's program or project…
promotes diversity, equity, inclusion, and anti-racist policies through your work in the tolling industry.
provides professional growth or leadership opportunities for People of Color through your policies, projects, hiring practices, or actions.
demonstrates that it has had a positive environmental and economic impact on historically disadvantaged communities.
demonstrates your organization's procurement efforts to provide partnership opportunities to People of Color and disadvantaged populations.
Entry Requirements
Applications shall be for a project or program that has produced successful, measurable results.
Your organization must be an IBTTA member in order for your submission to be considered.
2022 Submission Evaluation Criteria
Each application is evaluated according to four criteria by a panel of judges:
Criterion 1 (25%): To what extent are there results to demonstrate that the objective was reached and that it had a positive impact?
Criterion 2 (20%): How is the project relevant to promoting diversity, equity, and inclusion?
Criterion 3 (35%): To what extent does the project/program or organization clearly represent excellence in diversity, equity and inclusion?
Criterion 4 (20%): How innovative or sustainable is the project/program or organization?
---
2021 Winner
Business Diversity Program, North Texas Tollway Authority (NTTA)
The first-ever winner of this award, established by the Task Force on Diversity, Social, and Racial Inclusion, is the North Texas Tollway Authority (NTTA). Over the last 12 years, NTTA has implemented and maintained a successful business diversity program focused on disadvantaged, minority, and woman business enterprises. As a result, NTTA is a highly sought-after resource for other tolling organizations aiming to build their own diversity programs.
NTTA was presented with the award during IBTTA's 89th Annual Meeting & Exhibition. Congratulations to the whole team at NTTA for winning this award. 
John Mahalik, Chairman of Board, NTTA, accepted the award and is pictured with Mark Compton, IBTTA President, Samuel Johnson, IBTTA Past President (2020).  NTTA shared a video and talked about their recognized program.