Tolling Points
Communication, Change Management Summit Focuses on Fundamentals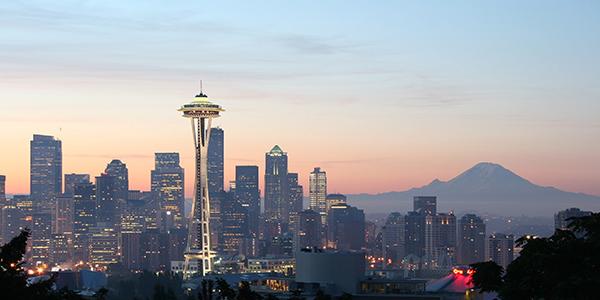 Patty Rubstello, PE, Assistant Secretary of the Washington State Department of Transportation, and Kimberly Jackson, National Toll Marketing and Communication Program Manager at Jacobs, are Co-Chief Meeting Organizers for IBTTA's Communication and Change Management Summit, July 28-30, 2019 in Seattle. In this co-authored post for Tolling Points, they talk about the rapid change sweeping the transportation sector and the steps the tolling industry is taking to keep up and lead.
With rapid change sweeping every aspect of transportation and tolling, what are the most important takeaways from this Summit that will help participants' organizations keep up and stay ahead?
Change can be many things: disruptive, frustrating, hard to manage, even a cause for fear. Our goal for the Summit is to give attendees new tools that show how the changes in our industry can be adapted to individual transportation agencies and companies and get us farther down the road to an efficient, effective transportation system.
We'll hear about both the successes and challenges from panelists and speakers, as well as fellow attendees. The Opening General Session with four executive directors, entitled, Communicators in Chief Tell All (or Mostly All), will launch the conversation and discussions about the challenges we all face, and highlight how these proven leaders have addressed them.
It may not be possible to stay ahead of all of change, but you can understand it and embrace it with the shared goal of delivering a quality travel and customer experience.
Where do you see the biggest challenges and opportunities for tolling communicators in the next year?
We are optimistic about the changes coming to the tolling industry, from new road technology to customer-focused back office systems, to improved customer experiences. Here are the three top communication opportunities on the horizon:
Embracing and editing new communication technology means identifying the best tools to match an agency's strategic goals and remembering that less is (sometimes) more when it seems like every day offers a new way to communicate.
Maintaining a focus on the fundamentals is the starting point for communicators who want to seize every opportunity to demonstrate the benefits of tolling for users making their way to work, home, and play. We know that steady outreach and education, and keeping the focus on the "why" behind the business, is what it takes to help people understand how tolling works.
Focusing on the customer and consistently putting the visible, hands-on benefits of tolling projects and systems at the foundation of our communication is a cornerstone for delivering a superior customer experience.
Seattle is a city that embraces change in all its aspects. What can participants expect to learn by attending a communication and change management summit in this community?
Seattle is a multi-modal city with bridges, tunnels, transit, light rail, and ferries. Some of that innovation is driven by the region's unique geography, since it's not easy to expand a system when you are surrounded by water on three sides and mountains on the fourth.
Necessity may be the mother of invention, but for this community it's also been a terrific foundation for partnership. All the local and state agencies worked closely together to bring about the Alaskan Way Viaduct Replacement Program, and that partnership is now moving on to other projects throughout the urban corridor.
During lunch on the first day of the Summit, Secretary of Transportation Roger Millar will share his insights on transportation in Washington and the central Puget Sound region. Then on Tuesday, the Alaskan Way Viaduct Replacement panel will offer a window into how multiple agencies worked together to replace a seismically vulnerable structure and rebuild SR 99 under Seattle—all while preserving the road and rail networks that serve a growing downtown, Seattle's iconic waterfront, and a thriving seaport.
How do innovation and effective change management in transportation help enable the broader progress a city like Seattle is working to achieve?
Seattle has the world's longest floating bridge, the country's largest ferry system, and rapid growth demonstrated by the abundance of cranes dotting the skyline. Its broad, multi-modal and integrated approach has led to interesting conversations about how we approach funding.
How do these facilities support our economies and quality of life in the decades to come, and how should those costs be allocated?  Are there communities harder hit by transportation changes (including construction), and how do we address those inequities? Like most challenging topics, it isn't just the dollars we must consider. It's how we approach development. What role does private development have in addressing the strains a new housing area places on a transportation network? How can we have the boring-but-important conversations about zoning?
The definition of transportation in our region and across the country is expanding. It's not only about the road, but about the multitude of modes that can get someone from here to there. The future will certainly entail an integrated, multi-modal approach tailored to the environment, public desires and available resources. Washington as a whole continues to focus on the fundamentals by keeping its roadways in a state of good repair, having the staff resources to support a transportation system that is transforming through technology, and being inclusive in its endeavors.
Is there anything you'd like to add?
How we get to work isn't the only thing in flux; our work itself, and the way we do it, is also changing rapidly. Agencies are adapting to these new opportunities and challenges with staffing models that better reflect the tasks in front of us.
Staff members are being given opportunities to grow into new roles and gain new skills, and agencies are partnering with private industry to provide support in those areas where short-term or highly-specialized expertise is needed. WSDOT recently adopted a new organizational structure to reflect both the internal structures we need to support transportation growth in the future, and the external partnerships that are crucial in dense urban corridors. All of us in the industry can contribute to this conversation and to the collective wisdom about managing tolling agencies, now and in the coming decade.
Register today for IBTTA's Communications and Change Management Summit, July 28-30 in Seattle.