Tolling Points
Don't Take Highways for Granted, Gutierrez-Scaccetti Urges Legislators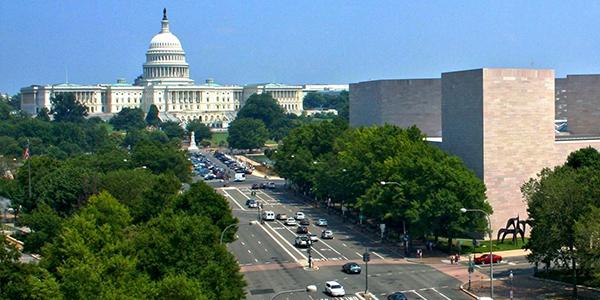 IBTTA Second Vice President Diane Gutierrez-Scaccetti, commissioner of the New Jersey Department of Transportation, stressed the bedrock importance of the nation's surface transportation network and compared highways to the other utilities Americans use every day in testimony to the House Ways and Means Committee January 29.
Gutierrez-Scaccetti appeared on the same day that House Transportation and Infrastructure Chair Peter DeFazio (D-OR) unveiled a five-year, $760-billion infrastructure investment framework that includes $329 billion for roads and bridges and places an accent on climate solutions, The Hill reports.
"There is no more important funding decision than that which involves this nation's transportation network," Gutierrez-Scaccetti told legislators. "When the transportation system fails, our economy is in jeopardy. When the transportation system fails, families are disconnected and most importantly, when our transportation system fails, our national defense is compromised."
The Roadways We Take for Granted
Gutierrez-Scaccetti pointed to the disconnect between the bills Americans readily pay for power, water, or cell phone service and the curious attitude some still hold toward the cost of transportation.
"Not unlike utilities, the transportation network is used every day by everyone, and perhaps the single service each of us takes for granted," she said, citing New Jersey's partnership with the federal government in delivering reliable mobility along the state's portion of the Interstate Highway System. "Yet we are putting our invaluable national transportation network, including the [interstate system], at risk due to our inability to secure long-term and predictable revenues for the federal Highway Trust Fund (HTF)."
In particular, "the current cycle of short-term program extensions and continuing resolutions combined with a recurring cash shortfall in the HTF is unpredictable and grossly inefficient," she warned, creating a challenge for states to complete essential infrastructure projects.
Searching for Buy-In
In their own announcement last Wednesday, House Democrats said they'd specifically decided not to put forward a funding plan for their infrastructure framework without prior conversation with the White House.
"I think it's really important that we not volunteer a revenue stream until the administration reaches an agreement with us," said House Ways and Means Chair Richard Neal (D-MA). "I think what we're looking for here is an agreement that we can then take to the public between the two sides about how best to pay for it, so there's not one-upmanship."
"The president said throughout the campaign that's something he wanted to do, so we hope to be joining with him in a unifying way," added House Speaker Nancy Pelosi (D-CA).
Infrastructure Funding Delivers Climate Co-Benefits
In addition to addressing the infrastructure crisis in its own right, the House framework "also seeks to address climate change, a top Democratic priority," The Hill says. "It incorporates ways to combat climate change with proposals like increasing the availability of charging stations and other fueling options for electric and zero-emissions vehicles, making roads safer for pedestrians and bicyclists and investing in zero-emission buses for public transit to reduce traffic congestion."
"There are so many ways we can deal with the climate crisis by solving our congestion and infrastructure crisis," said DeFazio, who took the lead on the framework.
Republicans on the committee said they were open to a bipartisan effort on infrastructure, but declined to endorse the Democrats' framework, The Hill states. "Any serious effort toward enacting infrastructure legislation must incorporate Republican principles as well," said House T&I ranking member Sam Graves (R-MO). "The time for partisan posturing from House Democrat leadership is over. On this Committee, we know the recipe for success in addressing America's infrastructure needs is through partnership, so let's get to work."
Get the tools to take action on the next wave of infrastructure projects. Sign up today for IBTTA's 2020 Technology Summit, April 2-4 in San Diego.