Tolling Points
Award-Winning Elizabeth River Tunnel Busts Myths About Tolling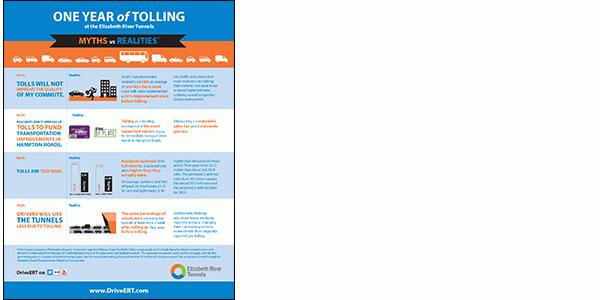 First, Virginia's Midtown Tunnel was named #1 Road Project in North America for 2014 by Road and Bridges magazine.
Now the bridge's operator, Elizabeth River Crossings (ERC) OpCo, LLC, is out with an infographic that busts some of the most persistent myths about tolling.
ERC reports that:
·      South Hampton Roads residents "are late an average of one less day a week" since tolls were introduced, showing that all-electronic tolling improves the quality of users' daily commute.
·      Tolling "is the most supported option" for funding the region's immediate transportation needs, more popular with residents than statewide sales or gasoline taxes.
·      Drivers of two-axle vehicles tend to over-estimate the tolls they pay on the tunnel—so if they believe tolls are too high, it may be because they're paying less than they think.
·      The percentage of drivers using the tunnel at least once a week was unchanged before and after tolls were introduced, busting the myth that drivers will go out of their way to avoid a tolled tunnel.
Help bust the myths about tolling by registering for IBTTA's Washington Briefing, March 29-31 in Washington, DC and participate in our visits to Capitol Hill