Tolling Points
Oregon Adopts Road User Charging Legislation - First In The Nation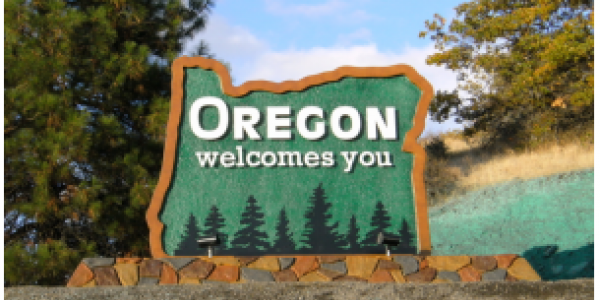 An interview with Jim Whitty, ORDOT, written by Mitchell Beer
Major advances are rarely won without a lot of hard work.
And the entire IBTTA community owes a loud vote of thanks to Jim Whitty and his team at the Oregon Department of Transportation (ODOT), after the state legislature adopted the first road user charging (RUC) legislation in the United States.
SB10 authorizes ODOT to assess a charge of 1.5 cents per mile for up to 5,000 cars and light commercial vehicles and issue an equivalent gas tax refund to users. The bill calls for the system to be operational by July 1, 2015.
The legislation is "a major victory for alternative forms of transportation funding across the country at both the state and federal level," said IBTTA Executive Director and CEO Pat Jones. "Oregon has lived up to its pioneer history and established a new frontier in transportation funding."
A Very Big Deal
The bill passed the Oregon House and Senate by wide margins on Sunday, July 7, and Gov. John Kitzhaber, a strong supporter of mileage-based user fees, was expected to sign it into law. "What the Oregon legislature did was basically approve where we are with the development of our road usage charging system and endorse it as a viable option for the future," said Whitty, manager of ODOT's Office of Innovative Partnerships and Alternative Funding.
"That's a very big deal, because once it's operational, you'll be able to add taxpayers very easily at a later date. The system will be ready to go."
Although most discussion and analysis to date has focused on the benefits for Oregon, Whitty said the system will make it easier for adjacent U.S. states and Canadian provinces to join the system.
"In the legislation, there's authority for ODOT to enter into multijurisdictional agreements to not only do joint research on these systems, but also to do joint pilot projects," he explained. "This platform is very easily scaleable, because it's all done through the Internet." With the Oregon system in place, other jurisdictions will be able to launch their own RUC systems more quickly, and at less cost.
Building Toward Success
Whitty traced this week's success back to an initial project in 2006 and 2007 that pointed to several ways to refine the system.
"People here in Oregon determined what was missing from the original pilot, what adjustments needed to be made, and over a period of time, we made them," he said. "The result is a system that is more acceptable to the public than the original one, and more acceptable politically as a result."
At IBTTA's 2013 Transportation Finance and Mileage-Based User Fee Symposium in April, participants heard about the patient, painstaking work that followed.
In 2011, the state legislature directed ODOT to develop and test a road usage charge that did not require GPS data, was based on an open system, offered a menu of technology, reporting, and payment options, and allowed for private sector administration. Oregon, Nevada, and Washington launched a multi-state pilot project on November 1, 2012.
The project evaluation found that actual experience with road user charging allayed some participants' initial concerns about system security and privacy, the availability of different payment options, and whether they would receive a gas tax refund after paying a mileage-based fee. After using the system, participants were pleased with the ability to get set up online, manage their accounts, and receive automated refunds.
With the results of the pilot project in hand, legislation was the next logical step.
This is How We Win
Stepwise progress. Smart research. Effective pilot testing. Gathering solid evidence and following where it leads. That's how Oregon earned public and legislative acceptance for road user charging, and it's exactly the approach that IBTTA is pursuing with its Moving America Forward campaign.
Oregon didn't achieve its objectives overnight, and neither will we. But the scale of the effort makes the victory that much sweeter, and this day belongs to our colleagues in the U.S. Northwest who brought the country's first RUC system to life.
brought the country's first RUC system to life. (Photo by Oregon DOT)