Tolling Points
Stocchi Makes the Case for Tolling in Rome TV Interview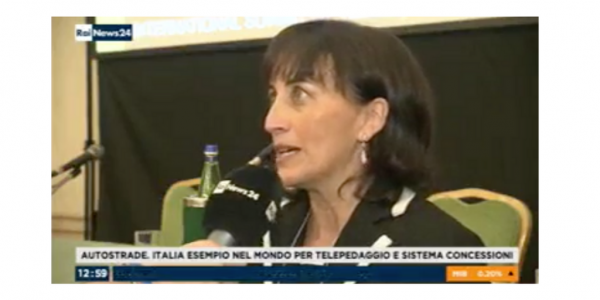 IBTTA's recent International Summit in Rome provided a great opportunity to make the case for tolled infrastructure and raise IBTTA's international profile. IBTTA President Emanuela Stocchi took the opportunity to speak with Rainews24, a popular TV station in Italy.
In an on-air conversation that focused largely on the industry's response to new technologies and emerging mobility trends, Stocchi stressed that tolling agencies are already working together to identify opportunities and solutions.
"In Italy, in Europe, in the United States, and across the IBTTA community, tolling professionals are meeting to discuss challenges and share perspectives on creating greater mobility," she explained. "We're working to deliver effective solutions that will give citizens and customers the benefits of the technology at our disposal."
With 200 participants from 20 countries attending, Stocchi said the International Summit was a great success, and a culmination of her theme for 2017, International Mobility Connections. Conference sessions focused on major tolling industry trends across the globe, with panelists from China, India, South Africa, Europe, and the United States addressing cutting-edge topics in safety, cybersecurity, concession management, and environmental protection.
Above all, Stocchi told Rainews24, IBTTA is a forum where tolling professionals exchange knowledge and ideas, share best practices, and learn from one other. The International Summit was a particularly valuable opportunity for overseas visitors to learn about a toll concession model that is widely used in the European Union, but not well known in North America.
Want to learn more about IBTTA and what it has in store for 2018?  Please click here. Ciao!