Tolling Points
Tolling Agencies Step Up to Flatten The Curve During the Coronavirus Pandemic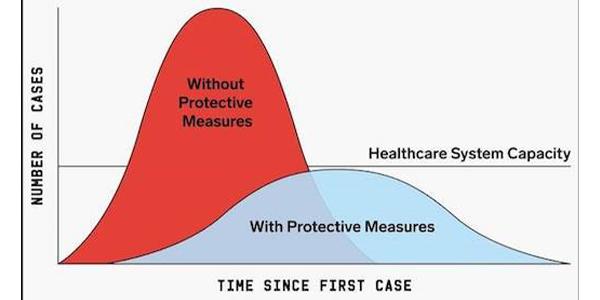 With the coronavirus pandemic spreading rapidly across the United States and around the world, tolling agencies are among the many public services on the front line of the all-out effort to slow the spread and #FlattenTheCurve.
You won't usually see Tolling Points lead off with a potentially life-saving public health message. But today is different. Because today, we are facing an emergency that is unprecedented in most of our lifetimes.
Fortunately, emergency preparedness and response is a routine focus for the tolling industry. So as it became clear that the coronavirus has been circulating undetected in U.S. communities for weeks, meaning that official reports only capture a fraction of the actual cases, IBTTA members knew they needed to act quickly and responsively.
Our industry's first and only priority in this situation is to do our part to protect the safety of our customers and employees. Here are the steps some of our members are taking to reduce the risk.
The Ohio Turnpike and Infrastructure Commission is taking advantage of the large, open design and no-touch fixtures in its service plazas to encourage social distancing. Cleaning schedules have been increased, and the commission is using stickers and posters to encourage handwashing. At the state level, Governor Mike DeWine has been looking at telecommuting protocols to help public employees work from home and minimize exposure.
In California, the Transportation Corridor Agencies has closed its customer walk-in center in Irvine until March 30 and is encouraging drivers to connect through its website, mobile app, or customer call center. "The health and safety of our customers and staff are of the utmost importance at The Toll Roads," said Chief Executive Officer Mike Kraman. "We will continue to reassess the situation and work to reopen the Walk-In Center as soon as possible."
The Illinois Tollway has temporarily introduced all-electronic tolling, and is encouraging customers to use I-Pass or E-ZPass or pay online to minimize the potential spread of coronavirus. "We are closely monitoring reports and advisories provided by the Illinois Department of Public Health and are fully focused on protecting the health and safety of the public," said Executive Director José Alvarez. "At all points on our system, all customers should be advised to keep moving and not stop at toll plazas."
In Houston, the Harris County Toll Road Authority has suspended cash payments to reduce exposure for toll collectors and drivers as well. "Cash customers should drive through and pay later online," the agency announced last week. "If the customer is unable to go online, a bill will be mailed to the registered owner of the vehicle."
In Italy, AISCAT, in addition to no cash collection and other measures, any customer support is dealt with by the Operational Centers through direct calls, so that customers are always supported to respond to their needs and there is close cooperation with the traffic police to help enforce new emergency regulations.
IBTTA created this webpage -  Tolling Industry Announcements and Resources -  so that everyone can share with one another what they are planning and how they are implementing those plans during this unprecedented time.
Across the U.S. and around the world, public health officials are aiming to slow the spread of the virus—not so much to prevent infections, but to spread the cases over a longer time span, so that hospitals and other care facilities won't be overwhelmed by the number of severely ill patients needing specialized care. We'll know soon enough whether these measures are enough to flatten the curve.
But many jurisdictions are already instructing citizens to work from home, avoid large gatherings, or restrict any outdoor activity at all to bare essentials like grocery shopping and picking up prescriptions. You do want to keep in touch with family and friends, and check in on older people who might be at risk—but do it by phone or online. The consistent message: It isn't time to panic, but we'll get through this far better if we take this seriously now and look out for one another.
IBTTA members are onboard with a safety-first message that in this case means staying off the roads.
"In normal times, our message is that if you're looking for a safe, reliable commute, if you absolutely have to get there on time, tolled roads, bridges, and tunnels are often your best option," says Executive Director and CEO Patrick Jones. "But these aren't normal times. For now, safety requires that we all observe social distancing to avoid being infected with COVID-19 or infecting someone else. The sooner we all get that message, the faster the crisis will begin to recede."
For up-to-date information on how the tolling industry is handling this pandemic, please visit our webpage frequently -Tolling industry announcements and resources relating to the Coronavirus.