Tolling Points
'Vibrant Tolling Hub' Hosts IBTTA Maintenance Workshop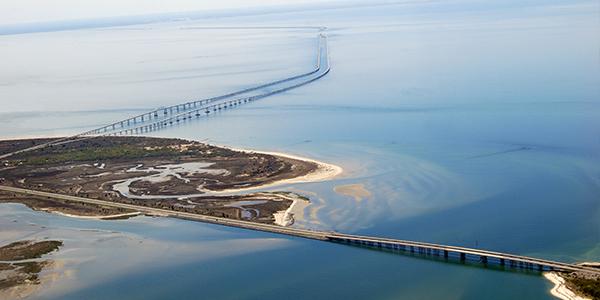 At IBTTA's Maintenance & Roadway Operations Workshop, June 23-25, 2109, in Norfolk, Virginia, attendees will experience first hand a vibrant tolling hub with roads, bridges, tunnels and express lanes. The Hampton Roads region serves as a shining example of improved mobility when tolling is at the center of its infrastructure funding strategy.
The Workshop is hosted by the Chesapeake Bay Bridge-Tunnel (CBBT) and the Virginia Department of Transportation (VDOT). Jeff Holland, Executive Director, CBBT is serving as Co-Chief Meeting Organizer along with David Caudill, Division Administrator, Toll Operations Division, VDOT. Both are looking forward to showing off the diverse transportation and tolling projects throughout the region.
With an audience that consists largely of senior to mid-level professionals, the Workshop will also be an ideal opportunity to network and build business relationships. Vendors and toll operators will share and discuss new techniques and tools that keep toll facilities safe and on the cutting edge providing greater safety and mobility for drivers. And an expanded exhibit hall will bring new products for everyone to peruse.
Preparing for Explosive Growth
Keynote speaker Aubrey Layne, Jr., Secretary of Finance at the Virginia Department of Transportation. Layne, who recently served as Secretary of Virginia's Department of Transportation will highlight the state's plan and thinking to accommodate the impending "Amazon Avalanche" as it hits Northern Virginia and reverberates across the Commonwealth. How does Virginia fast track the design and build the infrastructure as well as recruit a diversified workforce recruited and train for such a seismic opportunity? Layne was instrumental in working with Amazon and will answer these questions and more!
All in a Day's Work
You know a community has a lot to see when the technical tour becomes its own program track. For the first time, the technical tour will be a full day bus and walking tour of toll facilities in the surrounding area including the Elizabeth River Crossings, the Jordan Bridge, the High-Rise Bridge, the Lesner Bridge Project, the Parallel Thimble Shoal Tunnel Channel Parallel Tunnel Project, and the Chesapeake Bay Bridge-Tunnel Chesapeake Channel Tunnel & Ventilation Building.
Concurrently to the technical tour are two other tracks: The Management Track, led by David Raines, RK&K, will focus on updates in safety service patrols to keep roadways safe, using asset management to improve customer satisfaction and the massive challenge of recruiting and retaining a top-notch workforce. The Technical Track, led by Kristi Van Ooyen, P.E., Maine Turnpike will address emergency preparedness and disaster planning, customer communication and innovative project management and demands. Please check the program for all the details or download the IBTTA Meetings App!
In Advance of the Workshop
Come early and participate in two additional programs. First on Saturday, join in on the 2020 Conference Planning Meeting – the best way to get involved with next year's Workshops, Summits and Annual Meeting programming. On Sunday, participate in the Community Service Project. Plan to spend the day with your colleagues, while making a difference to the local community. Details pending. Both events are a great way to network and immerse yourself in IBTTA's community. And, they're both fun!
It is an exciting time for transportation, tolling and infrastructure investment and Norfolk is an incredible opportunity to see it all.
Register today for IBTTA's Maintenance & Roadway Operations Workshop, June 23-25, 2019 in Norfolk, Virginia.